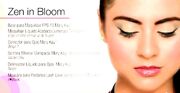 She is Ana Karen Alanis Piña she was born in August 14th 1990, she is 23 years old. She studing is English teaching in Relaciones Culturales , she is working as a Hostess and model for different brands and also she is a cheerleader of the futbol team Rayados Del Monterrey.
Section heading
Edit
She was born in Monterrey, Nuevo Leon in Mexico. Her parents are Martin Alanis an employee on a Company and Maria de Jesus Piña a housekeeper. Ana Karen was the first child and 2 years later the second sister was born Estefania Alanis, they were living in the city of Escobedo, Nuevo Leon. Until the first brother of the family born Milton Brandon Alanis, Ana Karen after finished the preschooler school, she started study In the elementary school called "Niños Heroes". She finished with honors and good grades. Then Katerin Alanis was born, then they moved at Guadalupe, Nuevo Leon, where she actually lives.
She also studied the high school in the Preparatoria #1 in Apodaca, Nuevo Leon, she was very interested in dancing, for that reason started to attend classes of Jazz and being a cheerleader of the High school team, winning several medals and awards for her participation those years, then graduated with honors.
Later she started to study Politic Science in the university "UANL ", but then she drop out, for several issues with the University. Later she decided to being a flying attendant, she finished the course with honors but she couldn't work in an airline for some troubles with the American Visa. For that reason she started to work as a model, hostess and image for several recognized Brands, such as; [[1]][Cola], Powerade , Telcel , Jack Daniels , Johnny Walker , etc.
Section heading
Edit
Also she appeared in several music videos with theInvasores de Nuevo Leon , Los Herederos and 3 ball and being model in runways and television spots, modeling several brands such as; Ilusion and Sears .
Then she started to study English Teaching in Relaciones Culturales, and also working part time with several agencies and brands.
Then she has benn part of several dance team being sponsored by; Coca Cola , Carta Blanca , Telcel. She currently is Cheerleader of the futbol team "Rayados del Monterrey " and also Baseball Team "Sultanes del Monterrey " and appeared in local Television commercials for "Mister Pizza " and beauty videos of "Mary Kay ".